Order Online | Pick Up In-Store

Daily Ski Rentals

Gearing up for a day on the mountain? Book your Daily Rental equipment online today with our Westborough store. We'll have your equipment ready for pick-up by the time you arrive. Check out our Sizing and How To Order guides below to learn more!
$55 first night | $35 each additional night
Book online to guarantee your boot and ski size will be available.
1 ski & boot set can be booked per order. Make as many orders as you like.
In-store walk-ins are first come, first serve. Size availability cannot be guaranteed for walk-ins.





Westborough Only
$55 first night | $35 additional nights
Book Online
Newer Equipment | Guaranteed Size Availability
1 day minimum rentals | 7 day max rentals
Book skis & boots Online | Pick Up & Return In-store
1 Ski/Boot limit per order
100% ensured equipment availability
Get Started


Westborough Only
$55 first night | $35 additional nights
Walk-Ins
First come first serve
$55 for the first day | $35 each additional day
1 day minimum rentals | 7 day max rentals
Equipment availability first come first serve
Pick up after noon & drop off before noon to avoid extra day rental fees
Service available in Westborough only
Get Started

THE PERFECT FIT
Skier Type | Ski Length | Boot Size
Decide Your Skier Type

Pick your skier type to help identify the ski length that works best for you.

Ski conservatively
Prefer slower speeds
Prefer easy, moderate slopes
Lower than average release/retention settings
Get Started


Type II
Intermediate Level
Ski moderately
Prefer a variety of speeds
Ski on varied terrain, including advanced
Get Started


Ski aggressively
Normally ski at high speeds
Prefer steeper and more challenging terrain
Higher than average release/retention settings
Get Started

Find Your Ski Length

Find your height below and click on the tab to view your possible ski sizes.
**Sizing images do not indicate availability**
Find Your Boot Size

Find and click your shoe size in the dropdowns below. There you will find your correct boot size.
**Sizing images do not indicate availability**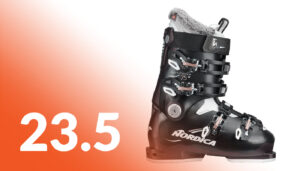 PROGRAM DETAILS
Learn more about online reservations here


How to Order

Looking for more information on how to complete an online Daily Ski Rentals reservation? Here's a guide to help you through the process.
Click the drop-down tab beneath Select Product to view all available ski sizes.
Browse ski sizes and choose your preferred ski length by clicking the Select button. You will then be able to view available rental dates for your selected ski size.
Once you have picked your ski size, you will be able to select your rental start and end dates.
Rentals may be as short as 1 night and as long as 7 nights. All other equipment settings for your rental, such as boots selection and Skier profile information, will be finalized on the Skipti platform once you select your rental dates.
All online rental bookings are made through our partner Skipti. In order to finalize your reservation, you will need to continue onto the Skipti platform to specify your equipment Pick-Up and Return times.
Sign up with the Skipti rental platform will be required for order completion.
After signing up, you will be able to pick your boot size. Choose between Unisex boots and Womens boots. You may also change your ski length during this step.
Questions about boot sizes? Refer to the sizing charts above or call us at our Westborough location at 508-616-2024. We will be happy to assist you.
As a final step, you will be asked to provide your:
Skier Type, Approximate Weight Range, Approximate Height Range, & Date of Birth
This information will be saved in a Skier Profile on the Skipti platform. Store staff at our Westborough store will use this profile information to prepare your equipment for pick up.
For all questions involving general store services & equipment: Call us at our Westborough store at 508-616-2024.
For all questions involving online reservation: Click the button below to visit the Skipti platform. Their live chat team is available from 9 am to 6 pm to answer customer questions concerning online reservations.